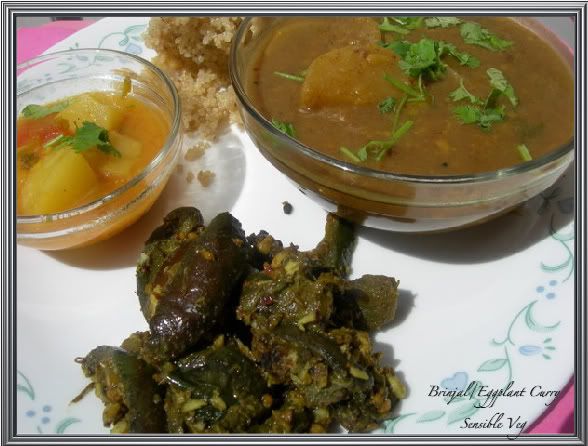 Eggplant, aubergine,
brinjal
there are the different names and there could be many more names for this super tasty and nutritious vegetable. Eggplant comes in different shapes, sizes and colors in purple, jade green, lavender, yellow-white and orange. No matter what name is called and what color it is this is one of my favorite vegetable . This curry is very simple to make and for any eggplant lover this recipe is a keeper.
Preparation

Time - 10 Minutes
Cooking Time - 20 to 30 Minutes
Serves - 4
Ingredients
Small Purple round eggplant - 10 to 12
Salt - 1 1/2 tsp or to taste
Tamarind - Gooseberry sized ball
Turmeric powder - 1/2 tsp
Curry powder - 1 Tbsp(as per taste and spice level of the curry powder)
Grated Coconut - 1 Tbsp
Coconut oil - 1 Tsp
Mustard seeds - 1/2 Tsp
Split
Urad
Dal - 1 Tsp
Asafoetida
- pinch
Curry leaves - few
Method
1) Soak the tamarind in little bit of warm water and once well soaked using as little water as possible thoroughly extract the tamarind pulp from the soaked tamarind.
2) Wash, rinse and cut the eggplant into long thin pieces( half the eggplant and each half cut into 3 pieces - around 6 strips per eggplant)
3) Heat a pan, i used a cast iron roasting pan and add oil. Once the oil is hot add the mustard seeds. Once the mustard seeds stop spluttering, add
urad
dal
,
asafoetida
and curry leaves.
4) Once the
urad
dal
is golden brown, add the cut eggplant pieces. Now add the turmeric powder, salt and cover and cook for 10 minutes stirring in between.
5) Once the eggplant is half cooked, add the extracted tamarind pulp and cook for 10 more minutes till the eggplant is thoroughly cooked.
6) Now add the curry powder and
saute
for 2 minutes and if any excess water is there, this powder will absorb it. Now add the grated coconut, stir and combine and leave for a minute and then switch off the stove. Leave this in the pan for five minutes and transfer to a serving bowl.
Notes
- I used the small purple eggplant, if you use the thin long purple or jade green, they get cooked much faster than the small round purple variety. Do not add tamarind pulp at the beginning as your eggplant will not get cooked that easily and always add it once the eggplant is half done. Do not leave the cooked food in a cast iron pan for a longer time, as the taste and smell of the pan will be absorbed by the cooked food. So transfer it to a serving bowl within few minutes.