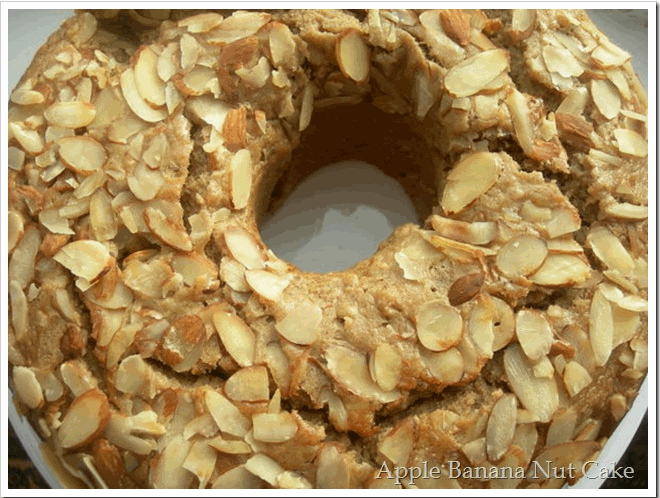 How many versions of Banana Nut cake do you make? I have been baking these banana nut bread, muffin cake for the past 10 Years and each and every time i make i try out something new. I love the flavor of banana in these baked goods so much, and never get tired of them. This is a lovely banana cake recipe. Bake it in a bundt pan and make little bit of icing and of course it is a cake. This recipe doesn't use oil or butter and the only fat comes from the nuts used. So try out, enjoy and let me know how it came out.



Preparation Time – 15 Minutes

Cooking Time – 35-40 Minutes

Serves – 10



Ingredients



Bananas - 7

Whole wheat flour – 1 1/2 cup

Whole Oat flour – 1 1/2 cup

Ener g- 3 Tsp

Baking soda – 1 Tsp

Baking powder - 2 tsp

Vinegar – 2 tbsp

Raw sugar – 1 cup

Chopped Walnuts – 1 Cup

Apple sauce – 4oz(This is the fat substitute)

Salt – 1/2 Tsp

Water – 2 Tbsp

Sliced Almonds – 2 Handful



Method



1) Puree the banana in your blender and to this add, raw sugar, apple sauce and keep it aside.

2) In a wide bowl add the ener-g egg replacer and to this add the warm water and beat till frothy.

3) Preheat the baking oven to 350 Degrees Fahrenheit.

4) Grease a baking pan with baking spray.

5) To the wet ingredients add all the dry ingredients and mix thoroughly without any lumps.

6) To this mixture add the vinegar and combine.

7) Pour the cake batter into the greased pan and on top place the sliced almonds bake around 30 minutes till the cake passes the tooth pick test.

8) Cool in a wire rack and go ahead with icing if you want to add few more calories to this cake.

9) Enjoy.