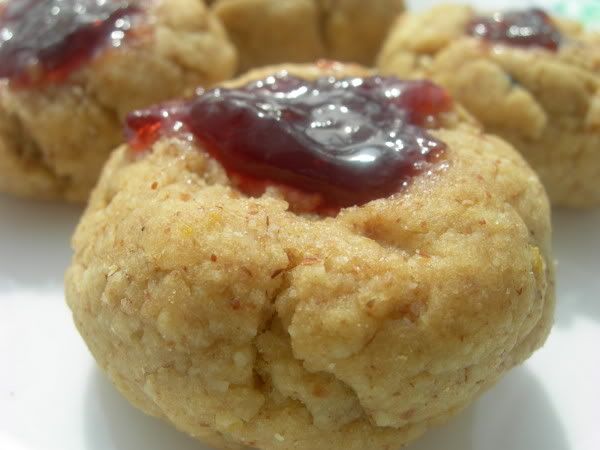 Thumb print cookies are not only feast to eyes but to the mouth too. When i saw this recipe in
Eatingwell.com
i wanted to try out immediately. I modified it slightly to suit my needs. Instead of using white flour this recipe uses Whole wheat, Oats, protein rich Almonds. The cookies are eggless, no white sugar, no butter and they are vegan. With not the usual ingredients in them, but they taste absolutely delectable. Do try out and let me know.
Preparation Time - 10 Minutes
Cooking Time - 15 Minutes
Makes around - 20 Cookies
Ingredients
1 cup whole almonds
1 1/2 cups whole-wheat pastry flour
1/2 cup oat flour
2 teaspoons baking powder
1/4 teaspoon salt
Sunflower Oil - 1/3 cup
Maple syrup - 3/4 Cup
1 teaspoon vanilla extract
Raspberry preserves - 1/3 Cup
Method
1. Preheat oven to 350°F. Line a baking sheet with parchment paper
.
2. Process almonds in a blender until finely ground. Transfer to a large bowl and add whole-wheat flour, oat flour, baking powder and salt. Whisk oil, maple syrup and vanilla extracts in a medium bowl. Add the wet ingredients to the dry ingredients; stir to combine. Use your hands to knead the dough together.
3. Form level tablespoonfuls of dough into balls and place on the prepared baking sheet about 2 inches apart. Gently flatten each ball into a disk, then make an indentation in the center using your thumb or a small spoon. Place 1/4 teaspoon preserves in each of the indentation.
4. Bake the cookies, one batch at a time, until golden around the edges, 15 to 17 minutes. Transfer to a wire rack to cool completely and store in a airtight container.
5. My cookies were good for atleast 5 days in room temperature and after that i didn't have any left to store longer.
Event Participation
Sending this to
Priya's CWF-Oats
an event started by
Kiran