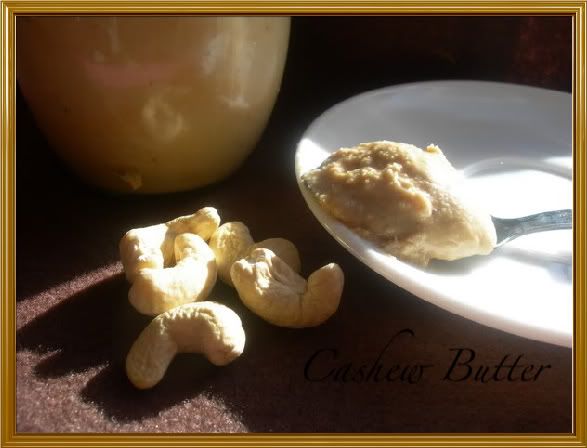 Do you buy pricey nut butters in the store, try this recipe and you will not only enjoy the fresh home made taste, but will find out how easy it is to make these nut butters at home. You can make cashew, almond, peanut butter, of course any kind of nut butter of your choice. Very few ingredients and few quick and easy steps and you have a bottle of protein packed power butter in few minutes, good to use for breakfast or for a high energy snack. I tried almond, cashew and peanut butter using this recipe and cashew butter is the winner of the three. While making nut butters, try to go for unflavored oil to for a better taste and flavor. You can add little bit of salt to make salted butter, add some honey and dark chocolate for sweeter version or just enjoy unsalted, unsweetened version. The choice is all yours.



Preparation Time - 5 Minutes

Cooking Time - 10 Minutes

Serves - 4 Ingredients



Unsalted Toasted Cashew(Peanuts, Almonds, Macadamia) - 1 Cup

Sunflower Oil - 2 Tbsp

Salt - 1/4 tsp or to taste or Honey - 1 Tsp or to taste.



Method



1) In a food processor run the cashew for a minute or two, until it is coarse and grainy.

2) At this stage add the oil and salt or honey etc and run the blender for 1 to 2 minutes to get a smooth butter.

3) Store in a dry glass jar and enjoy. When making peanut butter, add a Tsp of oil and try running the blender if required add more oil.