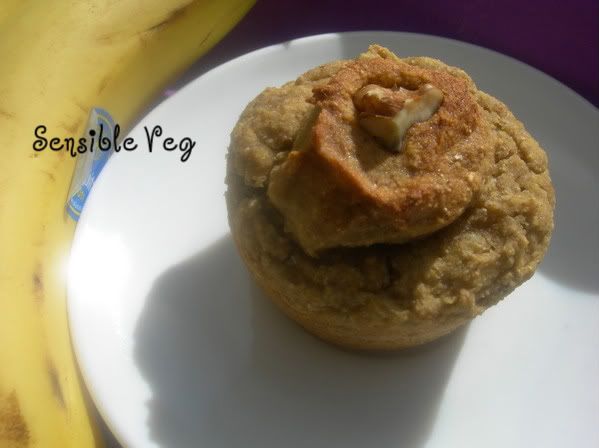 If you are used to baked products using white – all purpose flour, transition to whole grain baking is a big step. If you are used to gluten based products, transition to gluten free is another mile stone. Yes the baked goods taste little different than the ones with gluten. But they don't taste bad, and you still can enjoy all the goodness in a healthier way. But do not attempt to lick all these batters after filling the baking pans, because the gluten free batters don't taste that well at all. Of course baking removes all that bitterness, the overwhelming smell of the bean flours and makes it really palatable. Try this and let me know, how it turned out for you.
Preparation Time – 15 Minutes Cooking Time – 15 Minutes Makes – Around 15 Muffins Ingredients
Ripe Banana – 7
Organic whole grain ground corn meal – 1 3/4 cup
Amaranth Flour – 1/3 cup
White Bean Flour – 1/3 cup
Coconut Flour – 1/3 cup
Organic Corn Starch – 2 Tbsp as a egg replacer
Xanthum Gum – 1 Tsp
Raw Sugar – 1/2 cup or more if you want it sweeter
Yogurt – 1/4 cup
Chopped Walnuts – 1 cup
Cinnamon – 1 Tsp
Vanilla extract – 1 Tsp
Water – 1 Cup
Salt – 1/4 tsp
Baking Powder – 1 1/2 Tsp
Baking Soda – 1 Tsp
Apple Cider Vinegar – 1 Tbsp
Method
1) Puree the ripe banana in a food processor,do not mash. I know you will be tempted to mash, but the puree definitely gives a nice texture then a mashed one.
2) Combine all the flours, corn meal, amaranth flour, white bean flour, coconut flour, corn starch, xanthum gum, chopped walnuts, baking soda, baking powder.
3) Preheat an oven to 350 Degree Fahrenheit.
4) In another bowl add all the wet ingredients banana puree, yogurt, raw sugar, cinnamon powder, vanilla extract, salt, vinegar and water.
5) Line a muffin pan with baking cups or grease it with a non stick spray.
6) To the dry ingredients add all the wet ingredients and combine thoroughly to get a smooth batter.
7) Now pour the batter up to 3/4th of the muffin cup and then bake for 15 minutes, until a tooth pick inserted comes out clean.
8) Cool them in a wire rack and then enjoy.