Navarathri - is a nine day festival and is celebrated all our India in different ways. Each region, state celebrates it differently. We celebrate the nine days by keeping Golu/Kolu an arrangement of dolls in odd numbered steps and each day the Goddess is worshipped and a prasad is offered. Women are invited and slokas and devotional songs are sung in front of the golu and they are given turmeric and kumkum along with prasad. The celebration ends on Vijaya Dasami day which is today and is a very auspicious day to start all kinds of learning related activites. Each day a different prasad is made and offered and this puttu is one such traditional one which is offered normally on Tuesday's or Friday's during Navarathri.

Normally this dish is made with raw white rice and jaggery(panela), I tried this one with brown rice and
definitely didn't feel any difference in the taste at all. So check out this recipe and do give it a try and let me know, how you liked it.

Preparation Time - 20 Minutes
Cooking Time - 45 Minutes
Serves - 4 to 8


Ingredients

Brown Rice - 1 Cup(You can use white rice also if so go for the raw one and the parboiled one)
Water - 1 Cup
Jaggery/Panela - 1 1/4 Cup or more if desired
Cardamom powder - 1/2 Tsp
Grated coconut - 1/2 Cup
Salt - pinch
Turmeric powder - pinch
Cashews - 1 Tbsp
Ghee(Clarified butter) - 1 Tbsp


Method


1) Soak the rice in water for 2 hours(if using white rice, 1 hour is enough)

2) Drain the water completely from the rice and set this aside. Meanwhile
heat a heavy bottomed pan(I used an iron one) and set it on medium heat.

3) Divide this drained rice in three portions and fry this rice in the iron pan
till they are well spluttered and fried stirring in between so that the rice doesn't
get burned.

4) Once the rice is cool enough to handle, transfer the contents to a food processor and make a fine powder out of this rice(fine and not super fine). To the rice flour add the turmeric powder and salt and keep it aside.

5) Heat a cup of water and once it reaches the boiling point, switch off. Pour the water little by little on to the rice flour stirring and checking the consistency. The flour should be all wet and should be able to hold shape when made into a ball.

6) Now, cover this wet flour and in a pressure cooker/pan cook for 3 whistles and switch off. Once the pressure cooker is all set to open, open this and let this cooked rice cool a little bit. After it is cooled enough to handle by hand, using both your hands rub the flour in between to make a nice powder/flour.

7) Dry fry the coconut till it becomes slight brown and fry the cashews in ghee and keep it also aside.

8) Take the jaggery in a pan and pour just enough water to cover its surface and boil it till becomes thick. One point the jaggery would have become thick and if you put the spoon out and take it you will see strings. Now switch off, add the cardamom powder, cooked rice flour and stir well immediately. Add the roasted coconut and cashews and enjoy.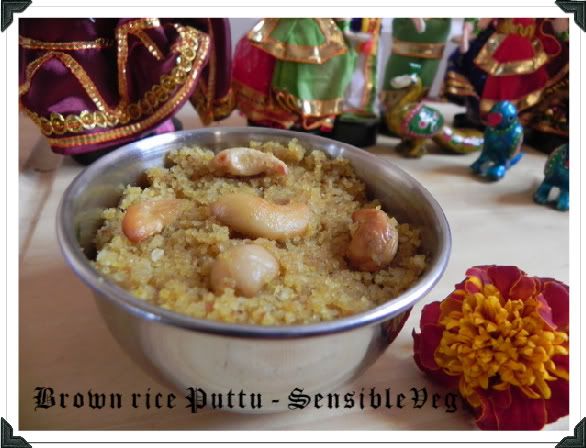 Events
Sending this to
Cooking Concepts - Festive Food hosted by Srav's Culinary Concepts.