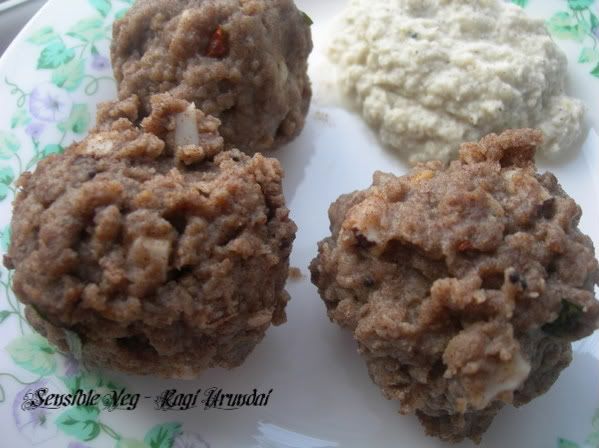 Do you know Ragi(Finger Millet) is the perfect food if you are looking for an alternate to Rice, Wheat, Corn etc as a staple. Easy to digest, gluten free, perfect for kids as well as adults. The best food for weight watchers, for people looking for low carb diet. The black chick pea (kala channa) and green mung bean are the best source of protein. A combination of all these three make the perfect breakfast along with some coconut chutney(coconut has fatty acids that provide both energy (nutrients) and raw material for antimicrobial fatty acids and monoglycerides (functional components)) and a glass of vegetable juice. Keeps you charged and full for hours.
Preparation Time - 5 Minutes Cooking Time - 30 Minutes Serves - 2
Ingredients
Ragi (Finger Millet) Flour - 12 oz
Whole Black Chick Pea Flour(Kala Channa Besan) - 4 oz
Whole Green Gram Flour(Green Mung Flour) - 4 oz
Water - 2 1/2 cups (Around 2 times the flour)
Finely chopped coconut pieces - 2 Tbsp
Salt - 1 Tsp or more to taste
Tempering
Coconut Oil - 1 Tbsp
Mustard seeds - 1/2 tsp
Asafoetida powder - 1/4 tsp
Curry leaves - few
Green or Red Chili - 1 or more to taste
Method
1) Heat a pan and add coconut oil, once the oil is hot add mustard seeds. After the mustard seeds stop spluttering add the asafoetida powder, chili, curry leaves and then the water.
2) Combine all the three flours and keep them ready.
3) Once the water starts boiling add the salt and the coconut pieces. Quickly but little by little add the flour to this boiling water while combining using a heavy spoon without forming any lumps.
4) Keep combining and let this sit in the stove till all the water evaporates and then switch off the stove.
5) Now transfer the cooked dough to a wide plate and let this cool completely.
6) After the dough is completely cooled, grease your palm with oil and make small balls using the center of your palm.
7) Place these balls in a greased bowl and steam it covered for 15 Minutes.
8) Serve these balls hot with
chutney
and enjoy.
Notes
- You can buy ragi, green mung, kala channa. Wash, rinse and drain and sprout it. Once sprouted sun dry and till they become crisp and get them ground in bulk. Normally ragi alone is made into dumplings in some of the southern parts of India. But these dumplings have to be eaten when it is steaming hot and with a side dish sambhar(spiced lentil stew). The addition of the bean flours, softens the whole thing and the steamed dumplings don't get hard and stays the same way even for hours.