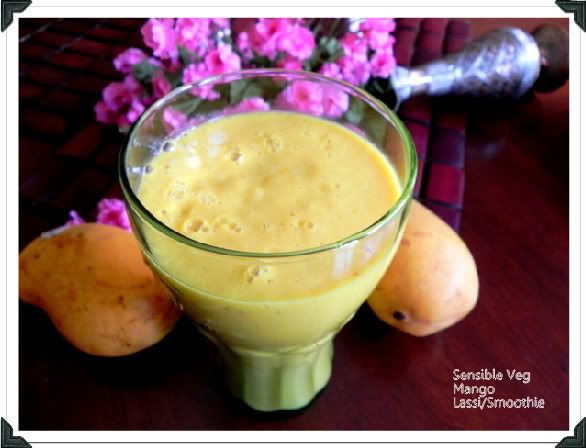 Last few days/weeks were very busy for me with work, last minute visits to friends & families back home, last minute shopping, packing and then flying back to NJ after the stormy Irene. Coming back here and feeling like a stranger in a quiet house with no hustle and bustle and kids back to their school making me even more home sick. I am just now catching up with things in my house and the blog and my blogger buddies posts. Now getting on to this simple but super delicious recipe, do try out and let me know and I am sure who ever hasn't tried Mango lassi before is going to love it. But wait, if you watch your sugar and carbs, mango is not a fruit for you.
Preparation Time - 5 to 10 MinutesCooking Time - NilServes - 2 to 3

Ingredients
Mango - 2 Big to Medium or 3 Small as shown in the photo
Yogurt - 1 1/2 Cups
Butter Milk or Milk - 1/2 Cup
Xylitol - 1/4 Cup (You can use an sweetener of your choice like Honey, Sugar and increase this based on the sweetness level of the mango)
Rose water - 1 Tsp
Saffron few strands
Ice cubes - 1 cup (optional)
Method
1) Peel and cut the mangoes into small pieces, throwing out the seed after squeezing out the pulp.
2) Place the mango pieces, yogurt, butter milk, xylitol, rose water and saffron in a blender and blend till smooth.
3) Add the ice cubes and blend one more time and serve immediately.
Note - You can add ginger, cardamom for flavoring and also the lassi can be served with some chopped nuts on the top (like pistachio, almonds etc).