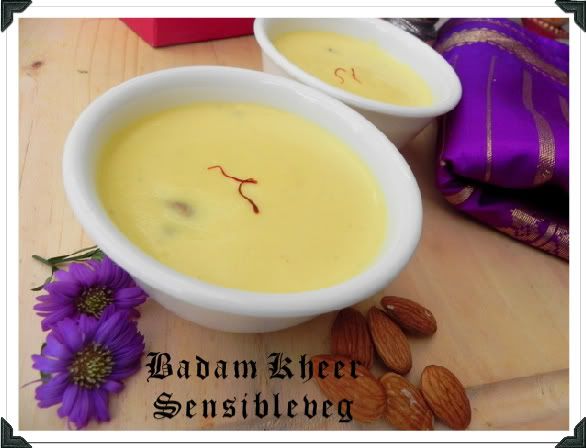 Tastes good, looks good, a super food with high fiber, protein, rich in calcium. Can a dessert be delicious & good for you too? Why not, this Almond Milk pudding made out of Almonds,
milk & sweetened with Xylitol tastes really good and also is safe for people on low glycemic index (low sugar) foods. Very easy to put together, this dessert is once again a dessert that can be made even by a novice cook. So if you haven't tasted this dessert before, try this out and let me know how you liked it.


Preparation Time - 10 MinutesCooking Time - 10-15 MinutesServes - 6

Ingredients
Almonds - 1 Cup
Milk - 2 3/4 Cup
Water - 1/4 Cup
Xylitol - 1/3 Cup(Traditionally done using sugar, if using sugar go for 1/2 cup or to your taste)
Saffron few strands
Cardamom 1 pod
Toasted Charoli nuts - 1 Tbsp
Method
1) Soak the almonds over night. Rinse and drain the water. Boil 2 cups of fresh water and once the water reaches the rolling boil point add the almonds and boil for 2 minutes. Then switch off the stove, immediately drain the water and add cold water rinse and once it is cold enough to handle. Just press the almonds between your thumb and index finger and the almonds will pop out of the skin. Do the same for the rest of the almonds.
2) Place the peeled almonds, saffron strands, cardamom and 1/2 cup of milk in a food processor and process till you get a smooth paste. Pour the ground paste in a thick bottomed pan and add 1/4 cup of water to the food processor to get any remaining paste sticking on to it.
3) Add the remaining milk and cook in medium heat. When it is slight hot add xylitol and boil till mixture slightly thickens and the xylitol melts approximately 8-10 minutes. Stirring in between to avoid burning the bottom.
4) Add toasted nuts and serve hot or cold as per your choice.
Note - Another good thing(or bad thing!!) about using xylitol is they teach you portion control, any time you exceed or go overboard with big portion sizes then the result is upset stomach.
Events
1) Sending this to "
Cook - Eat Delicious Desserts Almonds hosted by Anu
" an event started by
Raven
.
2) This is one of my favorite desserts and I am sending this to
My favorite dish event hosted by Sreevalli.