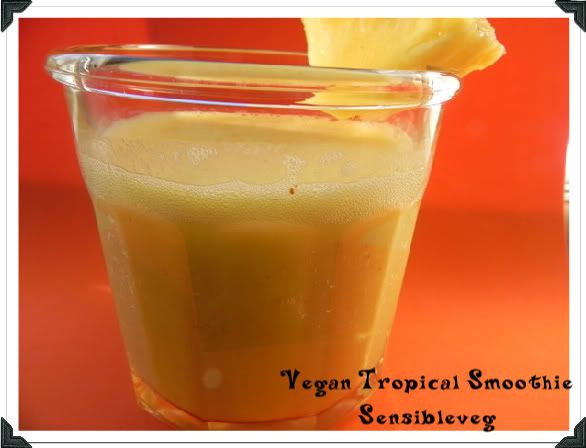 The ignored and tainted coconut has become the new super food and is every where in all different forms coconut milk, coconut flour, coconut oil. Even main stream restaurants offer smoothies with coconut milk in their menu. People are reinventing the wheel and coconut is in the lime light. At least now I hope the dietitians keep themselves updated and advice their patient to avoid coconut!!! Now coming to this smoothie recipe, I saw it in a restaurant menu card and fell in love with the ingredients used. So delicious and nutritious and a great way to kick start the day.
But if some one is on a diabetic diet, fruit smoothies are not advisable as the sugar in the juice form easily and quickly spikes the blood sugar. So if you are looking for a low sugar beverage go for any of this
Almond Butter Milk shake
,
Ash gourd & Cilantro Smoothie
,
Chocolate Truffle Shake
,
Almond Milk
,
Cucumber Cilantro Smoothie
,
Almond Saffron Milk Falooda
.
Preparation Time - 10 MinutesCooking Time - NilServes - 4

Ingredients
Coconut Milk - 2 1/2 Cups (Chilled)
Papaya pieces - 3/4 Cup
Mango pieces - 3/4 Cup (Fresh or frozen both will work great)
Pineapple pieces - 3/4 ( All fruits washed, peeled and cubed)
Xylitol or Honey - 1 Tbsp or per taste(once again use the sweetener of your choice, but honey gives a lovely tropical flavor to this drink)
Vanilla extract - 1/4 Tsp
Ice cubes - 1/2 Cup
Method
1) Place the papaya, mango and pineapple pieces along with honey, vanilla extract and coconut milk in a food processor and blend till smooth.
2) Add the ice cubes and blend one more time and serve immediately.
Note - Using a good quality food processor will eliminate the need to filter and discard the fiber. Fruits and vegetables are eaten for their vitamins and fiber and do not filter and discard the fiber and lose the health benefits.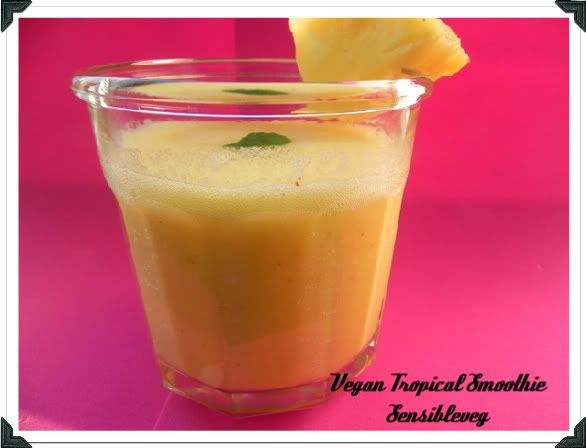 Event