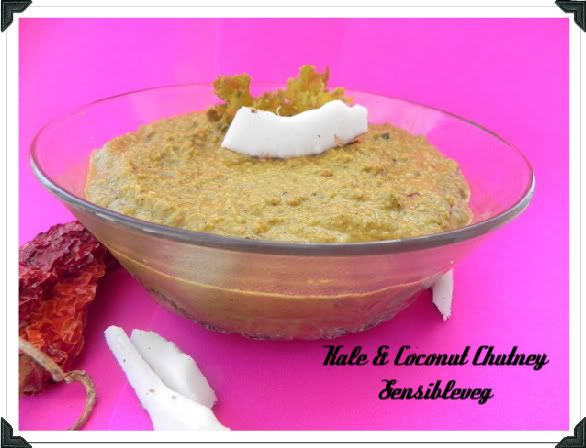 Kale is the King of Greens along with Brocolli. Though greens in general are nutritious foods, kale stands a head above the rest. Not only is it one of your best sources of beta-carotene, one of the antioxidants believed by many nutrition experts to be a major player in the battle against cancer, heart disease, and certain age-related chronic diseases, it also provides other important nutrients. In addition to beta-carotene, kale posses other important carotenoids: lutein and zeaxathin. These carotenoids help keep UV rays from damaging the eyes and causing cataracts.



Because of its nutritional content, I always pick up a bunch of kale from the farmers market. There are numerous ways you can include kale in your diet steamed kale, kale chips, salads. Being little bored of all these, I tried out this chutney and we all liked it. Do try out and let me know, how you liked it.



Preparation Time - 10 Minutes

Cooking Time - 10 Minutes

Serves - 4



Ingredients



Kale - 2 Cups ( Washed, stalks removed and torn or chopped into small pieces)

Coconut - 1 Cup (grated fresh)

Tamarind - 1 small goose berry sized ball(soaked in 1/4 cup water and discard any dirt in the bottom)

Salt - 1 Tsp or to you taste



Tempering



Coconut Oil - 2 Tsp

Mustard seeds - 1/2 Tsp

Asafoetida - small piece or 1/4 Tsp powder

Split Urad dal - 2 Tbsp

Red chili - 8 to 10 depending on the spiciness of the chili and your taste preference cut into half



Method



1) Heat a pan add oil and once it is hot add the mustard seeds and asafoetida piece


2) After the mustard seeds stop spluttering add the urad dal and then the red chili pieces. Saute till slightly brown. Now add the kale leaves and cook till slight tender.



3) Once the kale is slightly cooled add all the contents from pan setting little bit of urad dal and mustard seeds aside to a food processor, to this add the salt, coconut, soaked tamarind and blend till smooth adding more water as desired.



4) Now add the urad dal and mustard seeds to this ground chutney and mix well and enjoy.
Event Participation