Looking for more ways to include this naturally sweet, delicious and crunchy, vegetable in your diet? Then definitely try this carrot milk fudge. But before that let us see more about this vegetable. These root vegetables comes with wholesome health benefiting compounds such as beta carotenes, vitamin A, minerals and anti-oxidants in ample amounts. Studies have found that flavonoid compounds in carrots help protect from skin, lung and oral cavity cancers and the vitamin A help in maintaining a good vision. This naturally sweet, root vegetable packed with vitamins may be good for lot of people, but for people who are on a low sugar this is not the vegetable to be included regularly in their diet. Will post another fudge recipe using white pumpkin, which is low in sugar but still tastes wonderful. Check back soon and now let us get on to this recipe.
Preparation Time - 10 MinutesCooking Time - 20-25 MinutesServes - 8 to 10 (small portion sizes)


Ingredients
Grated Carrots - 3 Cups
Milk - 1 1/2 Cups
Grated Paneer - 1/3 Cup(Indian cottage cheese)
Xylitol - 1/3 Cup(If using sugar go till 1/2 Cup, because xylitol is slightly sweeter than sugar I used only 1/3 cup)
Saffron - few strands
Blanched almonds -1 Tbsp
Cashew - 1 Tbsp
Clarified butter - 3 Tbsp
Method
1) Heat a heavy bottomed pan and add a Tbsp of ghee and toast the nuts and keep it aside.
2) Add another Tbsp of ghee and add the grated carrots and saute till the raw smell is gone. ( This will take any where between 7-8 minutes).
3) Now add the milk and saffron strands and boil till the carrots are well cooked and all the milk is evaporated and the mixture becomes thick.
4) Now add the xylitol and paneer keep stirring till the mixture starts leaving the sides. At this point add the left over ghee and the toasted nuts and stir well and switch off the stove. Serve hot.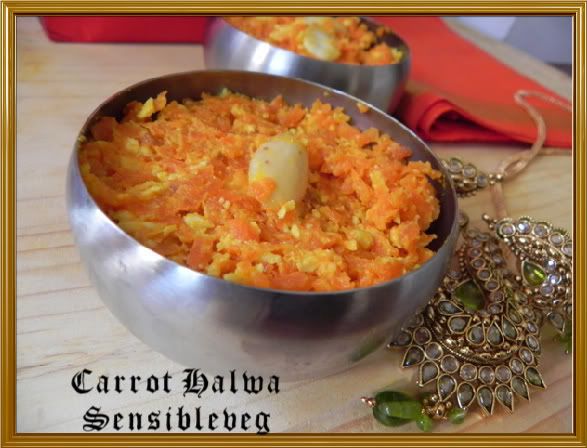 Events
Sending this to
Cooking Concepts - Festive Food hosted by Srav's Culinary Concepts.