Past few days were very hectic, fall recess for kids, work, Navarathri festival and inviting guests and getting the house, food everything ready for some fifty something people. I didn't even open the dashboard of my space for past few days and to break the Ice thought will post something today.
I love bell pepper for their color and the nutritive value they give. So every time, I go to the farmers market to pick up my vegetables I really get mesmerized and buy couple of them and add them to every thing possible.
This salsa is so easy to put together, throw in couple of healthy ingredients give a toss and serve with some organic whole grain corn chips or some almond flour tortilla chips which I will post soon. Don't forget to top with some
tomato salsa
to add some more spice to this dish.
Preparation Time - 10 MinutesCooking Time - 20 Minutes(If you are cooking the black bean by yourself)Serves - 4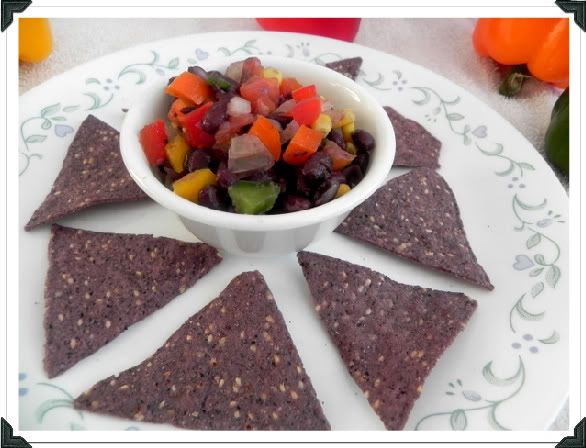 Ingredients
Soaked & Cooked black bean - 2 Cups(salted)
Tomato - 1 big or 2 small(Chopped into small pieces)
Thawed frozen baby corn - 1 Cup
Chopped bell pepper - 1 1/2 Cups(Green, Red, Orange & Yellow chopped into small pieces)
White or Yellow Onion - 1 Small (Chopped into small pieces)
Chopped Cilantro - 1/3 Cup
Lime juice - 2 Tbsp or to taste
Red wine vinegar - 1 Tbsp
Salt - 1 Tsp or taste
Freshly ground black pepper - 1 to 2 Tsp as per taste
Extra Virgin olive oil - 1 Tbsp
Chopped Jalapeno - Remove seeds & cut into small pieces(optional)
Method
1) In a large bowl add all the ingredients and toss together and serve with some tortilla chips
Events