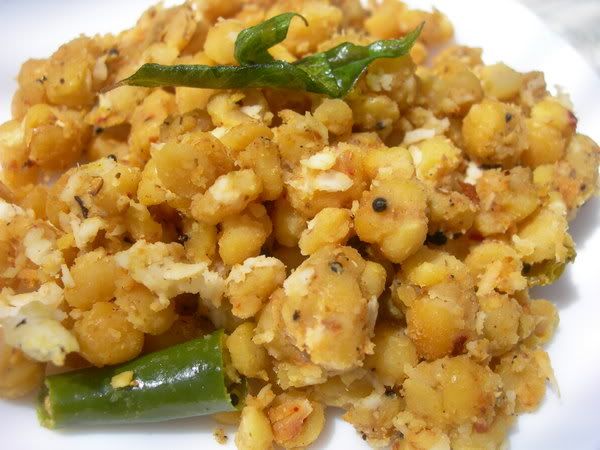 Craving for some healthy, protein rich and tasty snack. Sundal is a South Indian bean/legume based snack which is made out of steamed cooked legumes by adding very little oil and seasoned with spices, vegetables and coconut. Channa Dal, Kadalai Paruppu is a very good source of protein and has a very low glycemic index. It makes a perfect snack for both adults and kids who are looking for high protein, gluten free, tasty and diabetic friendly snack. Normally sundal is sauted with spices and garnished with grated coconut, but you can saute onion and add the cooked legume or add freshly chopped vegetables, grated mangoes, a cup of yougurt or add a dash of lime. The options are endless.



Preparation Time - Nil

Cooking Time - 30 Minutes

Serves - 2



Ingredients



Kadali Paruppu/Channa dal - 1 cup

Water

Salt - 1 Tsp or to taste

Asafoetida powder - a pinch

Curry powder - 1 Tbsp or more to taste

Grated Coconut - 3 Tbsp



Tempering



Coconut Oil - 2 Tsp

Mustard seeds - 1/2 Tsp

Green Chili - 1 optional

Curry leaves - few



Method



1) Pressure cook Channa Dal by covering the surface with enough water, salt and asafoetida for 2 whistles and switch off. (You can also presoak channa dal if desired, if presoaked directly cook in a vessel till tender).



2) Drain the excess water and let this sit for few minutes in a colander till all the water is gone.



3) Heat a pan and add a tsp of oil. Once the oil is hot add mustard seeds. After the mustard seeds stop spluttering, add green chili and curry leaves.



4) To this add the cooked channa dal and curry powder and saute for few minutes gently without mashing them and the channa dal becomes totally dry.



5) Now add the grated coconut and saute for 2 minutes and switch off and serve immediately.