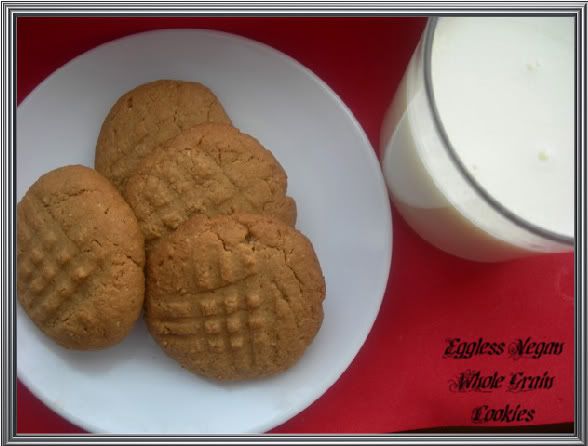 Cooking with unrefined flours are not that difficult and also they taste great with the mix and match of these ingredients. With the added protein from the peanut butter and fiber from the whole wheat flour and Oats, they are a good after noon snack. Better than a store bought one with all the refined flours, sugars and additives.





Preparation Time – 15 Minutes

Cooking Time – 15 Minutes

Serves – Makes around 18 Cookies





Ingredients

3/4 c Whole wheat flour

3/4 c Whole Oat Flour

1/2 Tsp Salt

1/2 Tsp Baking Soda

1 Cup Organic Smooth Peanut Butter

1/2 Cup maple syrup

1 1/2 Tsp Ener-g Egg Replacer

1 Tsp Vanilla

1 Tbsp Warm Water



Method

1) Combine the whole wheat flour, oat flour, salt and baking soda.

2) In a wide bowl, add warm water to the ener-g egg replacer and beat it till frothy.

3) Now add the maple syrup, peanut butter and vanilla extract to this mixture and combine to a smooth paste.

4) To this paste add the flour mixture and mix thoroughly without any lumps.

5) Preheat oven to 350 degree Fahrenheit. Line a cookie tray with parchment paper and make a small lemon sized ball out of the dough and flatten it using your palm.

6) Using a fork do a criss cross to get nice lines.

7) Bake at 350 degrees for 12-15 degrees till they are thoroughly baked.

8) Remove it out of the parchment paper and cool them in a wire rack and store in an airtight container once it is completely cooled.

9) Keeps good for at least a week without refrigeration.