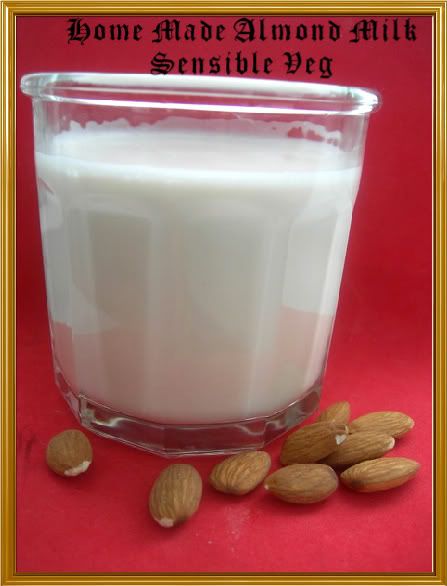 Are you looking for vegan alternate for Cow's milk and stack up on cartons of Almond Milk from the food store. Try this ultra easy home made Almond Milk recipe once at home and i am sure you will not buy those card board boxes any more. The best part in making almond milk is trying to come up with creative recipes to use up the ground almond meal residue. Look for more recipes in this website to make use of this ground almond meal, instead of discarding this healthy meal.



Preparation Time - 10 Minutes

Cooking Time - 0

Serves - 4



Ingredients



Almonds - 1 cup

Water - 3 Cups(You use 4 cups to too, but i prefer a thicker version)



Method



1) Soak the almonds over night.



2) Rinse, drain and transfer the soaked almonds along with 3 cups of water to your blender and grind till the almond becomes a fine meal.



3) I use a vitamix, so i add all the water along with the almonds. If you don't have a vitamix and have a regular blender then add little bit of water to cover the surface of the almonds and make this into a fine paste. Now add the rest of the water and blend thoroughly.



4) Once done transfer the contents through a fine filter or a thin cloth in a colander into a bowl so that the liquid almond milk collects at the bottom and the ground residue alone is filtered and stays on the top.



5) Chill and serve or add this almond milk to milk shakes or substitute this for milk in baking. Enjoy!!