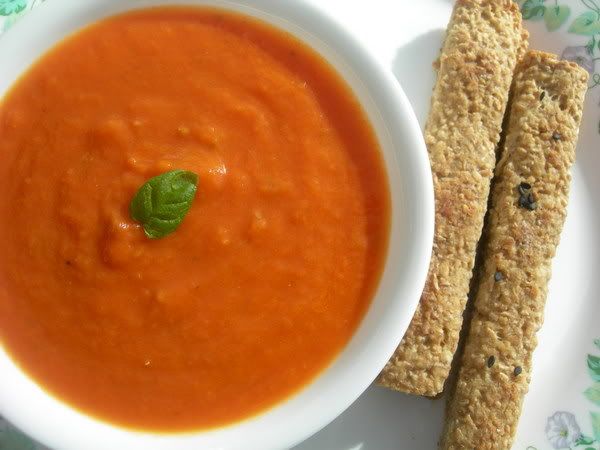 There are certain vegetables which can be had with out worrying too much about the carb count. Tomato is one of them, technically a fruit but used in cooking as a vegetable. Tomato is a very good blood purifier. It contains a host of Vitamins A, C and K and other minerals and is also rich in Lycopene a defense sytem needed to fight against free radical damage. The presence of antioxidants in tomatoes is said to be helpful in cleansing toxic compounds from the body. So there is no reason not to include this wonder vegetable(fruit) in the every day diet.
Cooking Time : 15-20minPreparation Time : 5-10 minServes - 4Ingredients
Tomato - 4 big (chopped)
Celery - 1 Stick (finely chopped)
Onion or Scallion - 1 or 2 Stalks (finely chopped)
Onion powder - 1/2 tsp
Garlic powder - 1/2 tsp (optional)
Pepper - 1/2 tsp or to taste
Salt to taste
Coconut Oil/Ghee/Butter - 2 tsp
Water
Method
1) Heat 1 tsp of oil and add the chopped celery and tomato pieces. Cover and cook till the vegetables are softened, stirring in between.
2) Switch of the stove and let the cooked vegetables cool down.
3) Once the vegetables are cooled completely, transfer them to a blender and blend thoroughly till you get a nice smooth puree. (I have a vitamix so, I get a perfect puree and there is no need to strain and discard the fiber)
4) Heat the rest of the oil and sauté the scallion and transfer the pureed contents to the pan and add water to the desired consistency.
5) Add the onion powder, garlic, salt and stir, simmer till the soup starts bubbling and then switch off.
6) Now add pepper powder and a dash of Ghee(clarified butter) or Coconut oil to the soup and serve.
Event Participation
1) This soup goes to
My Culinary Creations: Soup Recipes Event
.