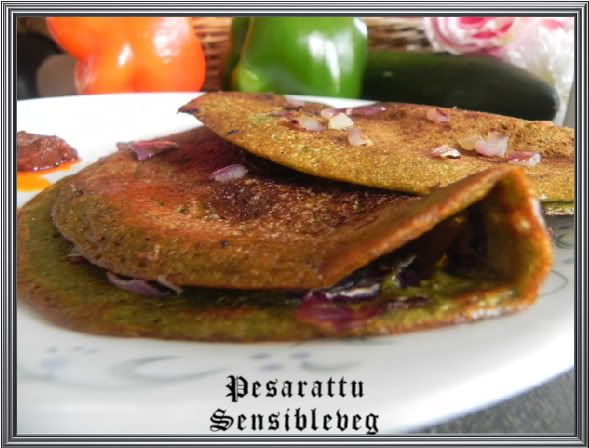 If you are looking for a high protein and low carb super nutritious break fast recipe, do include this recipe in your list. A signatory breakfast of Andhra(Southern State in India) is super filling and at the same time very nutritious also. If you haven't tried this before, do try out this gluten free, grain free, savory power packed breakfast made with legumes. Normally accompanied with coconut and ginger chutney, they are such a treat for the taste palate. I served this one with
Bell pepper & Almond Chutney.
Preparation Time - 20 MinutesCooking Time - 20 MinutesServes - Around 6


Ingredients
Whole Green Mung Bean/ Dal - 1 Cup
Salt - 3/4 Tsp or more to taste
Ginger - peeled 1/2 inch piece
Green Chili - 2 to 3 depending on the spice preference
Onion - 1 Chopped into small pieces
Coconut Oil - 2 Tbsp (or you can use ghee also(clarified butter))
Method
1) Soak the green mung dal over night. In the morning, rinse the soaked dal couple of times drain the water. Add the ginger, salt and chili and some fresh water in a food processor, Grind and make a fine paste. The batter should be slightly thin than the pan cake batter.
2) Heat a Iron griddle and then once it is hot, take a ladle full of batter and make a thin circle and add a tsp of oil around it. In medium heat cook this and once one side is well cooked, flip it and cook the other side. Now place the side which was cooked first the outer side and sprinkle the chopped onions and fold it.
3) Remove from the iron griddle and serve hot with chutney of your choice.
Events
1) Sending this to
CWS- Cooking with Seeds Mung Bean hosted by Priya of Priya's Easy N Tasty Recipes.