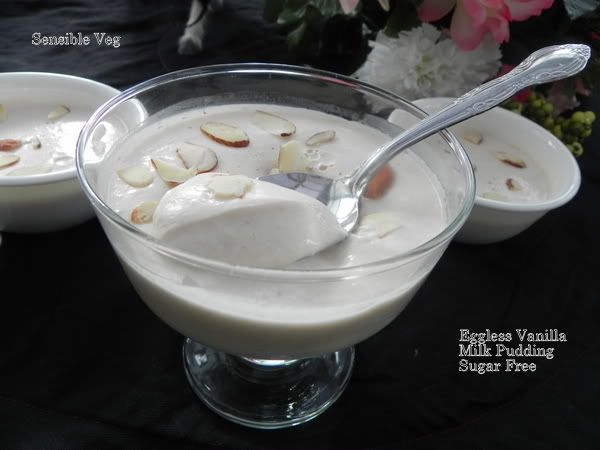 I hope you all had a great Valentine Day Celebration. Amidst all the Pink and Red Hearts celebration, I choose the white one to celebrate. The reason is the my Kids had their Valentine day class parties and come back home charged themselves with all the carb and sugar. I just wanted to keep things at home simple, healthy and ofcourse yummy too. This Vanilla pudding is a very easy and healthy and tastes absolutely divine. Xylitol has a chilling effect on your tongue, so the pudding after it is set kind of tastes like Icecream. With just very few ingredients you can create this delicious dessert. Do try out and let me know, how you liked it.
Preparation Time - 5-10 MinutesCooking Time - 10 MinutesServes - 2 to 3 (Depending on the portion sizes and cups you choose, I made this to 3 portions)
Ingredients
Milk - 1 Cup(8 oz - I buy unprocessed raw milk with cream on top, so if you are buying pastuerized, make this as 1/2 Cup Milk and 1/2 Cup cream)
Water - 1/4 Cup
Agar Agar powder - 3/4 Tsp
Xylitol - 2 Tbsp or per your taste
Vanilla extract - Few drops
Almond Flakes - handful for decoration.
Method
1) Soak the Agar Agar powder in 1/4 cup of water for few minutes.
2) Boil this water in medium heat till all the agar agar flakes dissolve, meanwhile warm the milk in medium heat by stirring in between so that there is no creamy layer formation on the top.
3) Add Xylitol and the dissolved agar agar flakes to this milk mixture and stir for 1-2 minutes till xylitol dissolves.
4) Now switch off the stove and add the vanilla extract and pour into desired cups.
5) Once this mixture is cooled down completely, cover the cups and refrigerate overnight.
6) Before serving, add a handful of almond flakes and enjoy.